Product Spotlight: RM Young 85000 Ultrasonic Anemometer
0
by Kelly Blumenschein
— September 19, 2011
RM Young's Ultrasonic Anemometer is ideal for general meteorological applications, providing accurate and reliable wind measurement.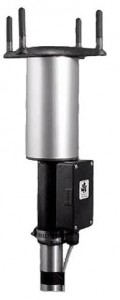 The anemometer is a 2-axis sensor with no moving parts. Its durable, corrosion-resistant construction is fully wind-tunnel tested and calibrated to provide accurate wind measurement over a wide operating range at wind speeds of 0-70 m/s (0 to 156 mph).
The 85000 measures wind based on the transmit time of ultrasonic pulses between four transducers. Air flow alters the transit time, which is used to calculate wind speed. Wind direction is determined from relative velocities along each acoustic path.
The sensor includes both analog and digital signal outputs in several formats, including RS-232, RS-485 and SDI-12, among others. The sensor installs on a 1″ (IPS) pipe. Wiring connections are made in a weatherproof junction box; special mounting adapters, connectors, and cables are not required.