Product Spotlight: Hach Pocket Colorimeter II
0
by Dave Hochanadel
— September 2, 2010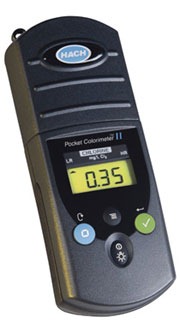 Hach's Pocket Colorimeter II Filter Photometer is a true go-anywhere instrument. It is lightweight, battery operated, and ideal for extended field work.
The upgraded instrument is now waterproof, and it can stay submerged at three feet for 30 minutes and remain fully functional. It is so lightweight (only 8 oz.) that it actually floats. The low-cost unit has accuracy comparable to a lab instrument, yet it remains simple to use so anyone can obtain reliable results.
Each instrument measures 1-2 parameters, with a total of 35 parameters available, including ammonia, chlorine, chlorine dioxide, dissolved oxygen, fluoride, monochloramine, nitrate, ozone, phosphate, and sulfate. Many of the methods are EPA approved or accepted. Additionally, a long-lasting LED light source allows expanded ranges for ammonia, chlorine, chromium, copper, iron, and molybdenum, reducing the need for dilutions.
These portable units come factory calibrated for Hach chemistry. No manual calibration is ever required. Simply zero the instrument with a blank, insert the reacted sample, and read the result. User calibrations are possible, however, giving the option to create custom calibration curves or perform a standard adjust. Hach also manufactures wavelength-specific "generic" instruments, allowing users to enter their own methods using from two up to ten standards.
The Pocket Colorimeter II features a new data logging function that allows users to store and recall the ten most recent data points, eliminating the need to manually record data. A larger display with backlit capability improves readability in low light conditions. Also new to the display is the battery icon, which indicates how charged the batteries are and if they need replacing.
Each Pocket Colorimeter II Instrument comes complete as a ready-to-use kit that includes a reagent set (pre-measured unit dose reagents), sturdy custom carrying case, and manual.
To learn more about the Pocket Colorimeter II and other portable colorimeters, call Fondriest Environmental at (888) 426.2151, email customercare@fondriest.com, or visit http://www.fondriest.com/products/colorimeters.htm.