Product Spotlight: RM Young Wind Monitors
0
by Kelly Blumenschein
— March 23, 2011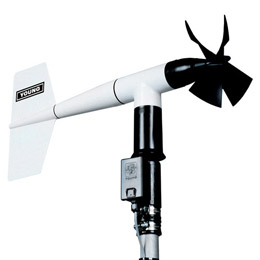 RM Young's collection of mechanical wind monitors come with varied options to suit a wide range of application needs. These wind sensors are designed with a four-blade helicoid propeller, corrosion resistant, and mounted on a secure one-inch pipe.
The Standard Wind Monitor is constructed for a wide range of general meteorology applications. It is both rugged and lightweight, allowing for use in most any environment.
The Marine Wind Monitor provides maximum durability in harsh marine environments, as it was created to withstand both basic aquatic use and exposure to saltwater. It produces pulse signals without electrical contacts or slip rings and utilizes stainless-steel bearings and waterproof lubricant to enhance environmental resistance. A weatherproof junction box supplied with mounting hardware is also included.
The Air Quality (AQ) Wind Monitor Meets air quality monitoring requirements set by the U.S. Environmental Protection Agency for prevention of significant deterioration (PSD). It also meets standards set by both the U.S. Nuclear Regulatory Agency and American Nuclear Society. The AQ wind sensor is high resolution, combining low threshold, fast response, and reliability to meet regulatory standards. This unit is lightweight and balanced; its helicoid propeller is composed of carbon fiber thermoplastic, providing dramatic increases in strength and stability.
The Serial Output Wind Monitor includes a unique digital encoder for wind direction. Propeller rotation stimulates a variable-frequency signal in a stationary coil, which is converted to a digital serial output by the onboard microprocessor. Serial output or voltage output signal is selected simply by moving an internal jumper. The sensor itself is a reliable molded vane that maintains direction orientation even if power is interrupted.
The ice-resistant Alpine Wind Monitor works well in freezing temperatures. It can survive the most severe wind measuring conditions while performing at the same level as the Standard Wind Monitor. The Alpine's propeller diameter is reduced to minimize vibration at high speeds, allowing for high quality measurement in any extreme wind application.
The high performing Intrinsically Safe Wind Monitor is approved for use in the most hazardous environments. It is standardized for use in Class 1, Division 1, and Group A, B, C, and D hazardous areas according to Safety Standard UL 913 (regulating protection methods for Intrinsically Safe Equipment.)  The wind sensor is a strong molded vane, sensed by a precision, long-life potentiometer within a sealed chamber.
While each RM Young Mechanical Wind Monitor is designed to be used in a different environment, they all provide quality data and have proven to be long lasting.
To learn more, call Fondriest Environmental at (888) 426.2151 or email customercare@fondriest.com.