Product Spotlight: Turner Designs C6 Multi-Sensor Platform
0
by Kelly Blumenschein
— April 11, 2011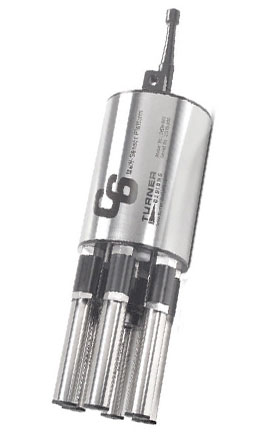 With the ability to integrate as many as six Cyclops-7 optical sensors, the Turner Designs C6 Multi-Sensor Platform is ideal for simultaneous data collection of multiple water quality parameters.
The C6's fast sampling rate and incorporation of depth, pressure, and temperature measurements allow for accurate data collection in an aquatic environment. Its large internal memory can store more than 100,000 data points.
The C6 is rated for a depth of 600 meters at temperatures ranging from -2 to 50 degrees Celsius. An optional dual-armed mechanical wiper minimizes biofouling if the sensor is submerged over a long period of time; an external submersible lithium ion battery is also available to power the C6 during long-term projects. This option provides more than 85 days of extended battery life at logging intervals of 15 minutes.
The C6 Multi-Sensor Platform's C-Soft Windows-based software allows for simple calibration, data logging setup, and file downloading and management.
Available optical sensors for integration with the C6 include:
Turbidity
Chlorophyll a in vivo
Blue Green Algae – Phycocyanin
Blue Green Algae – Phycoerythrin
Fluorescein Dye
Rhodamine Dye
Colored Dissolved Organic Matter (CDOM)
Optical Brighteners for Wastewater Treatment
Crude Oil
Refined Fuels
Turner Designs also provides custom optics solutions for the C6 for unique monitoring applications.
To learn more about the Turner Designs C6 Multi-Sensor Platform, call Fondriest Environmental at (888) 426.2151, email customercare@fondriest.com, or visit http://www.fondriest.com/products/turner_designs_2200-000.htm.