Product Spotlight: Trimble Yuma Rugged Tablet Computer
0
by Dave Hochanadel
— September 23, 2010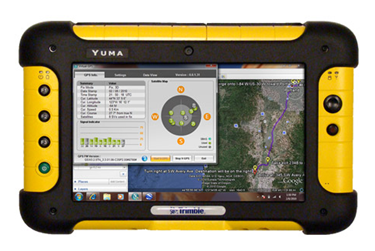 Trimble's Yuma tablet computer is a small, rugged system that is ideal for a wide range of field uses, and now it runs Microsoft Windows 7.
The seven-inch sunlight-readable WSVGA color touch screen is ideal for a host of mapping and form-based applications. Additionally, the Yuma is equipped with Wi-Fi and Bluetooth connectivity, integrated GPS, and dual cameras with geo-tag capability. It is expandable via two USB 2.0 slots, a 34mm ExpressCard slot, and an SDIO slot.
Each Yuma tablet is designed to withstand harsh conditions and can function as a hand-carried computer, mounted on a tripod or pole for data collection, or secured in a vehicle-mount for use as a computer on the road.
With a 1.6 GHz processor and a 32 GB solid-state hard drive, the Yuma tablet computer has no moving parts. This allows for operation in extreme cold, heat, or in a vehicle on unimproved roads. As with other Trimble rugged mobile computers, the Yuma meets stringent MIL-STD-810F military standards for drops, vibration, and humidity. With an IP67 rating, it is completely sealed against dust, can survive immersion in up to one meter of water for approximately 30 minutes, and can operate in temperatures from -30 to 60 °C.
About the size of a hardback book, the Trimble Yuma weighs only 2.6 pounds. It can provide instant access to the Internet via the integrated Wi-Fi or via an expansion port and a third-party cellular modem or satellite phone.
Back in the office, the Yuma can further expanded with an optional docking station for connecting to an external monitor, printer, or other office peripherals.
For more details, call Fondriest Environmental at (888) 426.2151, e-mail customercare@fondriest.com, or visit http://www.fondriest.com/products/trimble_yma-fys6es-00.htm.