Product Spotlight: NexSens MB-100 Data Buoy
0
by Dave Hochanadel
— September 17, 2010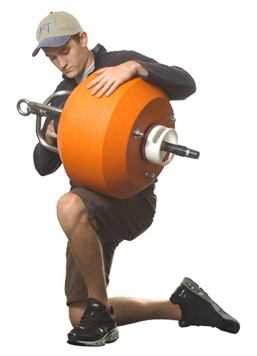 NexSens Technology has recently released a small and lightweight data buoy that will make water monitoring much easier and more affordable for many projects. The MB-100 data buoy weighs just over 30 pounds as a complete system (including a submersible data logger and batteries). It can be easily deployed by just one person from any size vessel and requires only a single-point mooring assembly.
Despite its compactness, the MB-100 is extremely sturdy. It's designed with an indestructible stainless steel frame and polymer coated, cross-linked foam hull. Additionally, all sensor connections are concealed below the surface with ruggedized waterproof connectors. A wireless transmitter can be positioned above the water but hidden and protected under the buoy hood.
The MB-100 is designed specifically to work with NexSens' series of submersible data loggers. The SDL can weather harsh conditions and run for months on alkaline batteries. It consists of the data logging hardware and communication module housed in a fully-submersible, five-inch-diameter housing.
SDL data loggers support almost any environmental sensor and can transmit data wirelessly in real-time. SDLs are equipped with five sensor interface ports for connection to industry-standard communication protocols. Connection options include multi-parameter water quality sondes, temperature strings, Doppler velocity meters, and many other sensors. Data is securely stored in the SDL's memory and transmitted by radio-to-shore, cellular, or Iridium satellite telemetry.
Via one of these three remote telemetry options, the SDL can transmit data to a base station computer running iChart software and optionally the WQData web service, which allows users to post data online, either publically or behind a password. This data can be accessed on a desktop, laptop, or smart phone and can also be embedded on outside websites using HTML and text-based widgets.
For more details, call Fondriest Environmental at (888) 426.2151, e-mail customercare@fondriest.com, or visit http://www.fondriest.com/products/nexsens_mb-100.htm.