Product Spotlight: SonTek FlowTracker Handheld Velocity Meter
0
by Jenna Hagemann
— December 16, 2010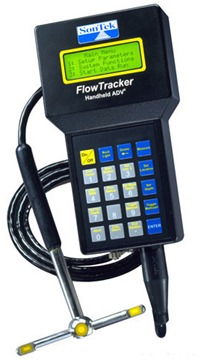 Designed for field use in even the most challenging outdoor conditions, the SonTek FlowTracker handheld Acoustic Doppler Velocimeter is designed for wadeable stream discharge measurements and never requires calibration.
The Flowtracker conveniently attaches to wading rods, and 2D or 3D configurations are available to measure velocities down to 0.001 m/s in depths as shallow as 2 cm. Discharge is then automatically calculated to ISO, USGS, or other international standards.
The lightweight, rugged, and waterproof FlowTracker incorporates six velocity measurement and three discharge computation protocols. Its easy-to-use keypad interface features a backlit, real-time display, making it useful for spot sampling of water currents if general purpose velocity data is desired. Additional features include an integrated temperature sensor and SmartQC built-in quality control.
SmartQC quality checks help ensure that erroneous data is not collected and used to estimate discharge. The handheld display even makes suggestions based on adaptive QC criteria to retake specific velocity measurements along a transect.
The FlowTracker automatically provides an uncertainty calculation for each discharge measurement that includes the uncertainty due to the instrument's resolution, the samples taken, and the propagation of error through the discharge computation.
The FlowTracker's four megabyte internal memory records up to 64 discharge measurements or more than 150,000 velocity samples. Data can be uploaded to a PC, where the Windows-based FlowTracker software offers diagnostic beam-check, recorder access, data visualization, customizable reports, and multi-language support.
For more details, call Fondriest Environmental at (888) 426.2151, e-mail customercare@fondriest.com, or visit http://www.fondriest.com/products/sontek_flowtracker.htm.