Satellite tracking of loons will assist avian botulism study
1
by Dave Hochanadel
— July 26, 2010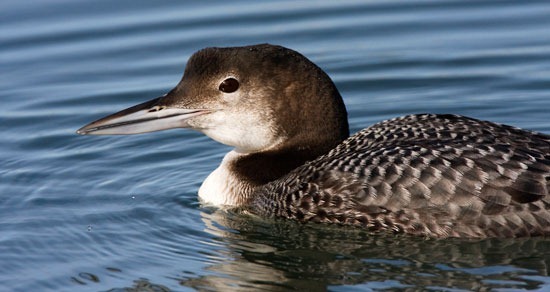 The U.S. Geological Survey is using satellite transmitters to track loons over the Great Lakes and learn more about the spread of avian botulism. The large black and white, fish-eating waterbirds can dive as deep as 250 feet to capture food, but they often consume this deadly disease as well.
Ten common loons (Gavia immer) from Wisconsin and Minnesota were fitted with satellite transmitters two weeks ago to facilitate a study about the disease. The data will also help examine migratory movements and feeding patterns as the birds head over the Great Lakes to the south for the winter.
"This information will help shed light on how avian botulism may work in the food web on the Great Lakes," said USGS scientist Kevin Kenow, the leader of the study. "[It] will also help managers better understand how loons fare as they head to their wintering grounds along the Gulf of Mexico and Atlantic coasts. Right now, little is known about habitat use along their entire migratory routes."
Data from the satellite transmitters is sent via email to researchers. Additionally, 70 birds are marked with geo-locator tags that record daily location, temperature, light levels and water-pressure data, which can reveal the foraging depths of these diving birds. The loons must be recaptured next year to obtain the information logged by these devices.
"The pressure data gives us information on dive profiles of the birds. How deep they've been diving, when they're feeding. That's what we want to tie into the botulism study," Kenow said. "Where are they feeding on the Great Lakes, at what depths are they feeding, and where are they likely to come in contact with botulism and acquire the botulism toxin?"
Understanding these feeding patterns is crucial to understanding how the birds are exposed to botulism via aquatic food webs, Kenow said.
Avian botulism is a paralytic disease caused by ingestion that can incapacitate or kill loons, as well as long-tailed ducks, and several other birds. It has killed more than 80,000 birds on the Great Lakes since 1999. Outbreaks of the disease have resulted in periodic massive loon die-offs since at least the 1960s, but they have become more common and widespread since 1999, particularly in Lakes Michigan and Erie, according to the USGS.
The USGS study is funded by the Great Lakes Restoration Initiative. It aims to examine the pathways by which fish and birds acquire botulinum toxin from Great Lakes food webs and determine how avian botulism outbreaks are related to environmental variables, such as water quality and food web structure.
Loons Tracked by Satellites Will Uncover Mysteries of Their Migration [U.S. Geological Survey] Satellites tracking loons in Wisconsin and Minnesota [WKBT-TV NewsChannel 8] Avian Botulism [U.S. Geological Survey]
Image Credit: http://www.flickr.com/photos/kevcole/2346669928/