Great Lakes states need stricter oil rules, report states
0
by Audrey Rabalais
— May 1, 2012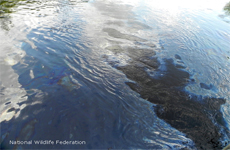 A report by the National Wildlife Federation and the University of Michigan Law School says that Great Lakes states need to create legislation to protect the lakes against oil spills. Authors of the report found that federal laws do not adequately manage the routing of oil pipelines and do not require spills to be reported.
The report was written in response to the 2010 oil spill in the Kalamazoo River and Talmadge Creek that released over 800,000 gallons of oil.
Read more at the Lansing State Journal.
Image credit: National Wildlife Federation.