Product Spotlight: Mustang Survival Inflatable PFDs
0
by Kelly Blumenschein
— April 5, 2011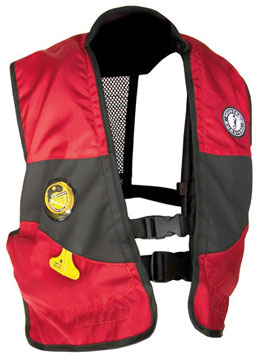 Mustang's line of Deluxe Inflatable Personal Flotation Devices offers multiple ways to stay safe in harsh conditions on the water. These inflatable PFDs come with options for manual and automatic inflation, or both.
Mustang's automatic PFD vests use hydrostatic inflator technology that automatically inflates the PFD when submerged under four or more inches of water. The automatic PFD is authorized for US Coast Guard use, and it does not respond inadvertently to rain, spray, or humidity.
The manual PFDs inflate when the user pulls on an activation cord. Additionally, an oral inflation tube is located on the left chest as a back-up floatation method. These PFDs also provide the user with a safety inspection window for ensuring the inflator is ready for use.
With the manual/automatic combination inflation option, users may pull the activation cord if they deem necessary, but the PFD will automatically inflate if accidental submersion occurs.
All Mustang PFD models for marine environments include an attached sailing harness for use while traversing rough waters. These PFDs can reach up to 35 pounds of buoyancy when inflated, and they offer a coated neoprene neck cushion for comfort, strobe light holder, SOLAS reflective tape, and a safety whistle.
Models are also available specifically for workers in need of a vest with reduced heat stress, as well as for fishers who may require a lightweight PFD (16-pound buoyancy) with storage pockets and a back hanging ring for their landing net.
To learn more, call Fondriest Environmental at (888) 426.2151 or email customercare@fondriest.com.