Product Spotlight: Proactive Mega-Monsoon Pump
0
by Kelly Blumenschein
— September 14, 2011
The high-performance engineered plastic Mega-Monsoon pump is ideal for continuous use in harsh or highly turbid conditions.
The Mega-Monsoon is capable of pumping up to 200 feet from ground level when connected to a low flow power booster controller and 12V battery. It can continuously pump for over 400 hours without the need for a cool down.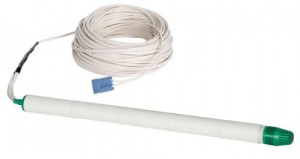 The pump is lightweight and user friendly. It features a dome-shaped bottom and screen to eliminate the intrusion of debris into the sample, extending motor life. The pump is equipped with 210 ft wire lead, a blue connector, and a high-impact plastic reel.
The low flow power booster controller required for pump use is engineered specifically for the Mega-Monsoon; the user can precisely control the water discharge with the turn of a knob. The controller can monitor and regulate sampling as low as 40 mL/min. A 3 ft wire lead to battery clamps and 5 ft wire lead to the pump connector is included along with the controller.
For more information on the Proactive Mega-Monsoon Pump, call 888.426.2151 or email customercare@fondriest.com.