Product Spotlight: Magellan eXplorist Pro 10 Handheld GPS
0
by Kelly Blumenschein
— May 25, 2011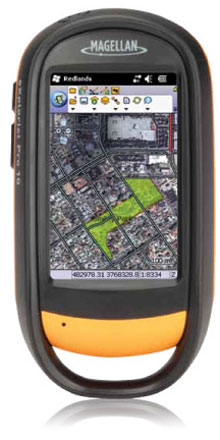 The Magellan eXplorist Pro 10 Handheld GPS is a field-rugged and easy to use system that's available at an affordable price point.
The eXplorist Pro 10 has a three-inch touch screen, runs on the Window Mobile operating system, and is equipped with a powerful Samsung 533mHz internal processor. The system features a 128MB RAM on-board memory, as well as 4GB non-volatile internal flash data storage.
The Magellan has both a three-axis compass and built-in barometric altimeter to provide accurate three-dimensional measurements and elevation readings. The system has GPS precision of 3-5 meters in real-time, which can be further enhanced to sub-meter accuracy using integrated Bluetooth v2.0 technology to connect to an external GPS beacon. The Magellan can also be connected with other Bluetooth-equipped devices, such as barcode scanners and rangefinders.
The handheld also includes an adjustable 3.2 megapixel camera and can even play MP3 music files. Additionally it has an integrated microphone, recorder, and speaker for hands-free note taking.
The Magellan operates in temperature ranges from 14-140 degrees Fahrenheit and can withstand submersion for 30 minutes at a depth of one meter, as well as drops one meter high.
Optional accessories for the eXplorist Pro 10 Handheld GPS include an all-purpose mounting kit, belt clip, and vehicle kit with adaptor.
For more information, call Fondriest Environmental at (888) 426.2151, e-mail customercare@fondriest.com, or visit http://www.fondriest.com/products/magellan_tp10ensgxww.htm.