Product Spotlight: Hach DREL/2800 Laboratory
0
by Kelly Blumenschein
— May 5, 2011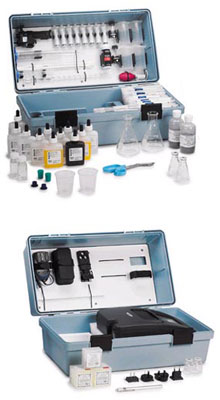 Hach DREL Portable Laboratories provide researchers with a convenient solution for analyzing water samples in even the most remote locations.
Each DREL/2800 model comes with a portable spectrophotometer, which can be used for over 240 test parameters and 20 new vial tests. It can store up to 50 user programs and 500 data points. Through barcode technology, the spectrophometer scans a coded test vial and determines the appropriate analytical method to improve efficiency and reduce human error.
The DREL/2800 Complete Water Quality Laboratory is available for general field use to test 20 basic parameters. This lab kit can optionally include the 2100P Turbidimeter and SensION 156 portable meter, which measures pH, ORP, dissolved oxygen, conductivity, total dissolved solids, salinity, and temperature.
The DREL/2800 Industrial Water Quality Laboratory is designed for use in industrial applications. The provided reagents allow measurement of up to 19 industrial parameters.
Each DREL/2800 portable laboratory kit includes a DR 2800 spectrophometer, lithium ion battery, reagent set for running roughly 100 tests, and an apparatus set (including beakers, mixing bottles/brushes, droppers, cylinders, and electrode holder/rod) — all in rugged test carrying cases.
For more information, call Fondriest Environmental at (888) 426.2151, e-mail customercare@fondriest.com, or visit http://www.fondriest.com/products/hach_2922600.htm