Product Spotlight: YSI ProODO Optical Dissolved Oxygen Meter
0
by Dave Hochanadel
— July 1, 2010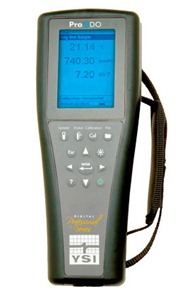 YSI's digital-based ProODO Optical Dissolved Oxygen Meter is the most robust handheld device to offer optical oxygen sensing technology. The ProODO utilizes intelligent digital sensor technology, which can store calibration data within the sensor. Thus, probes can be placed on any ProODO instrument without re-calibration.
Optical DO technology provides a number of advantages. Optical sensors do not require membrane changes and maintain accuracy longer with fewer calibration. Based on usage, calibrations can be stable for as long as one year and are stored within each sensor. Moreover, there are no electrodes to clean or solutions to change, and optical DO sensors are not stirring dependant, although YSI has said "stirring … of the optical DO sensors does improve response time."
YSI ODO technology utilizes a user-replaceable sensing element that requires replacement approximately once every year. With field durable cables, MS-8 (military spec) connectors, rubber over molded IP-67 waterproof case, and graphic backlit display and keypad, the ProODO is suitable for rugged field applications.
The probe can also fit into a standard 300 mL BOD bottle in the lab. A separate, optical–based BOD probe is also available. The ProODO comes with YSI's Data Manager desktop software for real-time charting, instrument configuration, downloading, and data management; a USB cable; and an communication dock.
For more details, call Fondriest Environmental at (888) 426.2151, e-mail customercare@fondriest.com, or visit http://www.fondriest.com/products/ysi_proodo.htm.