Product Spotlight: YSI CastAway CTD
0
by Lake Scientist Staff
— March 17, 2011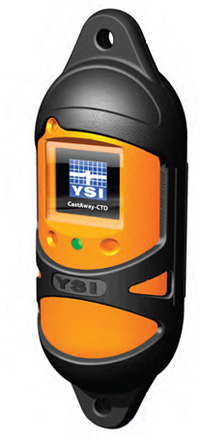 The YSI CastAway CTD is a simple, lightweight hydrographic profiling instrument designed for quick and precise measurements. Within minutes, this multi-functional tool can gather conductivity, temperature, and depth profiles and then transmit data with Bluetooth technology upon retrieval.
Weighing just one pound, this palm-sized device is easily used in a variety of aquatic environments. With a touch of a button, the CastAway is ready to be cast or submerged for data collection and can reach depths of 100 meters. A built-in GPS receiver provides time along with latitude and longitude positioning before and after each cast.
The CastAway's LCD screen allows immediate viewing of conductivity, temperature, salinity, and sound speed versus depth. The waterproof LCD displays minimum, maximum, and average values for these parameters.
Raw data is easily transmitted in a number of formats via Bluetooth to Windows computers for detailed analysis. Data can can transfer to a computer running CastAway software, and it can also export to other industry standards such as Excel, Hypack, or Matlab.
The CastAway can easily conduct speed of sound profiles, take point measurements, and profile thermoclines and haloclines. The instrument also allows users to quickly verify readings from other in-situ sensors, track salinity, study mixing zones, and capture profiles from any dock, boat, or bridge.
The CastAway has a rugged non-corrosive housing and flow-through design. This battery-powered device is capable of 40 hours of continuous use and can be used in temperatures from -5° to 45° C. With 15MB of memory, the CastAway stores information for up to 750 casts.
To learn more, call Fondriest Environmental at (888) 426.2151, email customercare@fondriest.com, or visithttp://www.fondriest.com/products/ysi_400000.htm.