Product Spotlight: Mustang Survival Anti-Exposure Suits
0
by Kelly Blumenschein
— March 2, 2011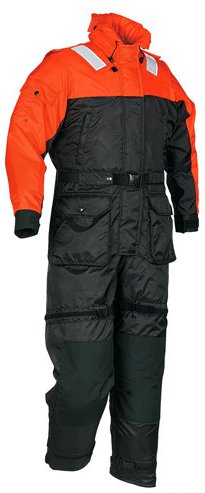 Sudden submersion into cold water can be extremely dangerous, as sudden shock to the body may result in hypothermia and even fatality. It is proven that the chances of survival greatly increase if one is able to remain dry. Mustang Survival Anti-Exposure Suits are designed for maximum protection, ensuring dryness and safety should an accident occur.
The Standard Anti-Exposure Coverall is a basic worksuit that provides excellent quality for a variety of uses. The standard suit includes an inflatable head support pillow for buoyancy, leg zippers for easy removal, and "Tug-Tite" closures at the wrists and thighs.
The Deluxe Anti-Exposure Suit provides hypothermia protection and maximum flotation using closed-cell Mustang Airsoft foam.
The Deluxe Anti-Exposure Suit offers maximum safety while maintaining comfort with a relaxed fit for constant wear that does not interfere with field work. An ergonomic insulated hood folds easily into the collar. Other features include neoprene wrist closures, Tug-Tite at the thighs and ankles, reflective tape, and chest and front cargo pockets.
Each Mustang Survival Suit is a USCG Type V Worksuit and Type III PFD when worn; the material for both anti-exposure worksuits was developed with Breathable Barrier Technology which, allows for perspiration and vapors from the body to escape while allowing minimal wind inside. The suits are also fully rainproof with a GORE-TEX outer lining.
For more information, call Fondriest Environmental at (888) 426.2151 or e-mail customercare@fondriest.com.