Flathead Lake buoys monitor water quality and meteorological conditions
0
by Sylvia Maye
— August 23, 2011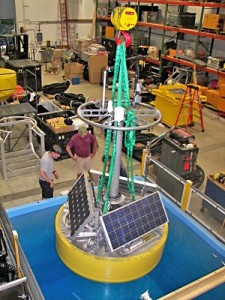 The University of Montana's Flathead Lake Biological Station and Woods Hole Oceanographic Institution have developed two data buoys that will monitor Flathead Lake's water quality and weather conditions at least four times a day.
According to a news release by the University of Montana, "Woods Hole originally designed the monitoring systems for use in the Arctic Ocean, but, together with FLBS, they modified them for use in Flathead and Crater lakes."
The buoys, which cost $250,000 each, will be installed at two places along the deep trench in the middle of Flathead. Additionally, the buoys will provide a platform for a group of instruments that allow automated measurements of water quality and meteorological conditions, such as wind speed and direction, barometric pressure, air temperature, solar radiation and humidity. The data collected will be available to the public online.
Read the complete story at DailyInterLake.com