New technologies promote discoveries in lake research
0
by Kevin Rose
— March 22, 2012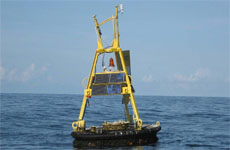 Scientists in Switzerland have coupled existing technologies to improve the study of freshwaters. By linking flow cytometry, a technology originally designed for the medical field, and a profiling buoy, scientists are making new insights into how lakes and ponds change and respond to environmental pressures.
Flow cytometry is a technique used to count and identify small samples based on their size and shape. Profiling buoys use a winch to lower and raise sensors through the water column. Mounting a flow cytometer on a profiling buoy gives scientists a two-dimensional view of how chemistry, physics and biology change throughout the water column.
While not common, this technology may soon be available to scientists and lake managers elsewhere to improve drinking water quality and better regulate harmful algal blooms.
Read more at C&EN.