EPA investigates continued sewage discharges into Lake Michigan and local creeks
0
by Charity Smalls
— March 28, 2011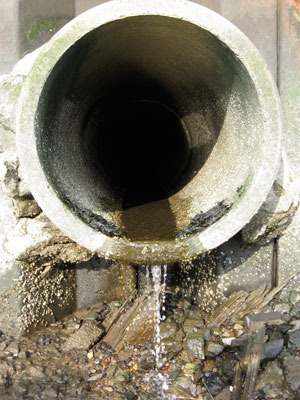 The Environmental Protection Agency is looking into continued sewage spillage into Lake Michigan and Chicago waterways. Chicago is one of many cities that still use a combined sewer system, which carries residential and industrial waste together with storm runoff. During rain events, the sewers are easily congested, brim over, and spill into local waterways via overflow pipes. If these bodies of water are filled, the waste is released into Lake Michigan to ensure streets and basements don't become flooded.
Chicago's Deep Tunnel, built in 1975 and completed in 2006, was created to shield Lake Michigan from sewage, address the issue of sewers overflowing due to rain, and prevent basement flooding. District officials touted the tunnel system as a trifecta solution; it would "bottle rainstorms," sanitize rivers and streams, and permit the region to pass federal and state criterion for water conditions. Lake Michigan would be the dumping ground only when all other options had been exhausted.
While the tunnels have kept significant levels of contaminated water out of the lake and other bodies of water, sewage continues to be a problem. Between 2007 and 2010, there has been an increase in the amount of polluted water deposited in Lake Michigan — almost 19 billion gallons. In comparison, only 12 billion gallons of polluted water were dumped from 1985 to 2006.
EPA administrators labeled chronic sewage overflows as harmful to human and animal wellbeing. Due to the sewage, recreational activity such as swimming cannot be enjoyed without the risk of illness. However, Metropolitan Water Reclamation district officials say they are handling the situation to the best of their ability.
Thomas Granato, Metropolitan Water Reclamation district director of monitoring and research, said to the Chicago Tribune, "We face a monumental challenge to deal with all of this water. It's not as good as we want it to be." In the meantime, Chicago has made environmentally friendly changes to lessen sewage spillage and combat resulting water pollution.
The city has replaced a number of alleys' regular pavement with permeable concrete that will absorb rainwater and filter it into the ground rather than running off into the sewer. Additionally, Mayor Richard Daley has promoted the use of green roofs, which absorb rainwater. Other Midwest cities have also considered green options for cleaning up water pollution.
Cleveland is transforming abandoned plots into rainwater sponges that will absorb millions of gallons of rainwater. Indianapolis has proposed the creation of rain gardens, aesthetically pleasing and a defense against storm water runoff. Cincinnati has looked at paving streets with permeable materials that would absorb rainwater. Fighting water pollution is not just a large-scale project; community members can do their part to reduce water pollution. The Ohio EPA Combined Sewage Overflow Program page lists practical tips to conserve personal water use and limit water pollution.
Addressing the issue of combined sewage overflow may seem daunting, but it's not impossible. Last year, Grand Rapids, Mich. reported on its website that it has evolved from a "CSO villain to Sewer-Hero," a success story also shared in the Great Lakes Coalition's August 2010 issue. City officials say there is still work to be done, but they've already reduced sewer spillage by roughly 99 percent.
Feds probe chronic sewage overflows into lake, streams [Chicago Tribune] CSO Project Success Story [Official Site of Grand Rapids, Mich.] Healthy Lakes- Healthy Lives [Healing Our Waters- Great Lakes Coalition] Green Infrastructure [SustainIndy: City of Indianapolis]
Image Credit: http://www.flickr.com/photos/48722974@N07/ / CC BY 2.0