Comprehensive study of nitrogen's impacts on Europe released
0
by Dave Hochanadel
— April 15, 2011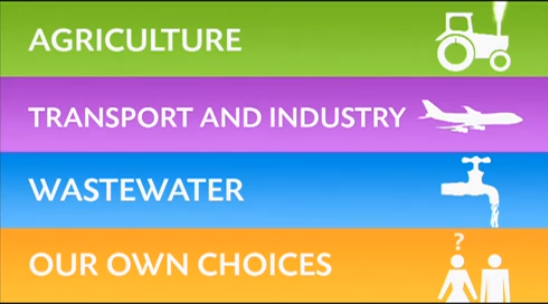 [youtube uuwN6qxM7BU 550 443]
European Nitrogen Assessment official launch video
A new large-scale, five-year European assessment shows that nitrogen is not only costly to the environment, but to the economy as well. The European Nitrogen Assessment, the first Europe-wide assessment of nitrogen's impacts, was released earlier this week. It shows that nitrogen pollution costs each person living in Europe between 150 to 740 Euros every year, with total expense of 70 -320 billion Euros to the continent.
The study was a collaboration between 200 researchers from 21 countries and 89 organizations. It focuses on the effects of numerous forms of reactive nitrogen, including ammonium, nitrogen oxide (a cause of acid rain), and nitrate, a common nutrient used in many fertilizers among other sources.
The ENA assesses the damage nitrogen pollution causes with respect to such factors as its contribution to climate change, loss of biodiversity, and impacts on human health.
"The assessment emphasizes how nitrogen links the different environmental issues that we have come to know so well: climate, biodiversity, air, water, and soil pollution," said Professor Bob Watson, chief scientific advisor to the United Kingdom's Department for Environment, Food, and Rural Affairs. "It develops the vision for a more holistic approach, which is vital if we are to make progress in tackling these issues."
Nitrogen is often a key contributor to nutrient loading in lakes and other surface waters, also called eutrophication. When present in unnaturally high concentrations, nutrients like nitrogen and phosphorus can increase algal growth, which can lead to a reduction of dissolved oxygen and cause other severe problems for water quality. At it worst, this process can even lead to anoxic "dead zones," where no aquatic life can survive in most cases.
According to a press release from UK's Centre for Ecology & Hydrology, some of the more notable findings from the study include the following:
The drinking water of more than 10 million Europeans might be contaminated with nitrate at concentrations exceeding recommended safe levels.
Nitrates are one of the primary causes of toxic algal blooms and dead zones in the North, Adriatic and Baltic seas
Air pollution caused by nitrogen has reduced life expectancy by several months across much of central Europe.
Atmospheric nitrogen deposition has caused led to a minimum of 10% loss of plant diversity in forests spanning two-thirds of Europe.
The goal of the study is to propose solutions for reducing nitrogen's negative impacts, with suggestions including more efficient use of synthetic fertilizers and manures and reduced meat consumption. The ENA was presented Monday during the first day of the Nitrogen and Global Change 2011 conference in in Edinburgh, UK. In tandem, the journal Nature published commentary by lead author Dr. Mark Sutton, in which he discussed the significance of combatting nitrogen emissions in the twenty-first century.
The complete ENA study is available online in PDF format here.
Excessive nitrogen harms the economy and environment – first Europe-wide assessment published [Centre for Ecology & Hydrology] Press Release: Excessive nitrogen harms economy and environment [Centre for Ecology & Hydrology] European Nitrogen Assessment [Cambridge University Press]