Groups protest open-water sediment dumping in Lake Erie
1
by Dave Hochanadel
— May 28, 2010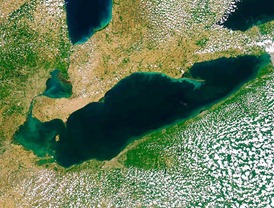 Open-water dumping of dredged sediment is turning Lake Erie into "pea soup," warn concerned environmental and business groups.
The groups are suing to stop the U.S. Army Corps of Engineers from dumping enormous volumes of sediment from the Toledo Harbor into the lake. USACE digs out roughly 631,000 cubic yards of sediment per year on average from the harbor and drops it into the lake water.
The National Wildlife Federation, Ohio Environmental Council, Lake Erie Charterboat Association, Izaak Walton League, and Western Lake Erie Waterkeeper Association filed an appeal with the Ohio Environmental Review Appeals Commission (ERAC) in protest of the open-water dumping.
The EPA, which granted USACE certification to dump as much as 800,000 cubic yards this year, admitted the practice "is not environmentally acceptable," but the alternative would be closing the Toledo shipping channel.
The protesting organizations have expressed concern for the negative effects the suspended sediments have on water quality and the health of aquatic organisms. The dumping also worsens harmful algal blooms, which are already an enormous problem in Lake Erie. The groups assert that the dumping also has peripheral effects on local economy resulting from impacts on fishing, boating, water recreation, and drinking water supplies.
What do you think should be done with the tons of dredged sediment? Share your thoughts in the comments.
Friends of Lake Erie fight sediment dumps [The Columbus Dispatch] Groups Ask Court For Help in Preventing Lake Erie From Turning to 'Pea Soup' [Public News Service]