EPA announces first GLRI competitive grants
0
by Dave Hochanadel
— September 8, 2010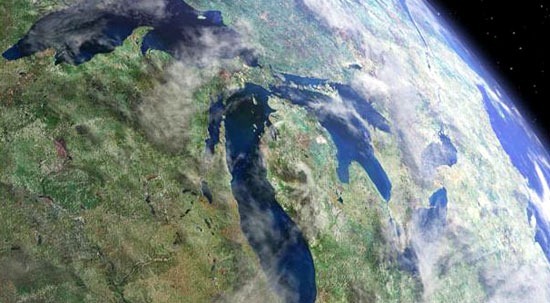 Environmental Protection Agency Administrator Lisa Jackson announced yesterday the first round of Great Lakes Restoration Initiative competitive grants. She joined other officials for press events in Toledo, Ohio, and Green Bay, Wis. to discuss which projects will receive funding from the $475 million restoration program.
Wisconsin programs received seven grants worth more than $5.25 million. Additionally, Jackson indicated the state is likely to receive much more funding, more than $29 million through 50 grants spread throughout the state, to help clean up local waters and wetlands.
Much of the initial monies will be applied to projects intended to repair and cap islands near the southern shore of Green Bay. A project to cap Renard Island, which was constructed from PCB-laden sediment dredged from the Green Bay shipping canal, was awarded a $2 million grant.
Another $1.5 million will fund a restoration of the Cat Islands, which have been eroding for decades. The project to create a barrier to protect the islands is expected to cost a total of $34 million.
Ohio was awarded a total of about $2 million to target some of the major issues facing Lake Erie's watershed. Of that, $1 million will go to the Ohio EPA for surface water improvement in Cuyahoga County, which includes the Cleveland area.
The surface water program aims to "enhance nonpoint source pollution management; stream and wetland restoration; and, innovative stormwater management and green infrastructure demonstrations in Lake Erie tributaries," according to the project description.
The University of Toledo will receive $550,228 for a project to prevent surface contamination from biosolids, which is treated sewage sludge that is often applied to agricultural fields as fertilizer.
"Through DNA fingerprinting of E. coli and detection of Pharmaceuticals and Personal Care Products (PPCP), this project will evaluate the feasibility of a tile drain cap as a way to mitigate contamination of waterways after biosolids application," the project description states.
Additional funding that was announced yesterday includes:
$489,427 to Oconto County Land Conservation District for riparian buffers and wetlands.
$395,815 to Brown County Land and Water Conservation District for West Shore Green Bay Northern Pike habitat restoration.
$377,354 to Brown County Land and Water Conservation District for Baird Creek riparian protection .
$250,000 to the Ohio Office of Budget and Management for Toledo Harbor sediment project.
$250,000 to University of Wisconsin Oshkosh for sanitary surveys of northern beaches.
$250,000 to University of Wisconsin Oshkosh for sanitary surveys of southern beaches.
$168,000 to Ohio Department of Natural Resources for Maumee reforestation.
EPA's competitive grants announcement [Great Lakes Restoration Initiative] Federal Great Lakes grants awarded in Ohio [WEWS 5 ABC]
Image Credit: Mark Alberts