Record lake sturgeon caught in Wisconsin
2
by Kevin Rose
— April 16, 2012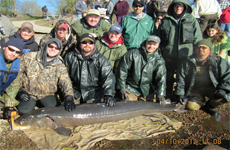 This past week officials with Wisconsin's Department of Natural Resources caught a record size lake sturgeon on the Wolf River near Shawano. The fish was 87.5 inches long and weighed more than 240 pounds. It is believed to be the largest lake sturgeon ever caught in the U.S. The fish was estimated to be 125 years old.
Sturgeon are members of an ancient family of bony fish, native to may rivers and estuaries throughout the world. Some marine species can grow up to 18 feet long and weigh thousands of pounds. They are slow-growing and usually do not breed until they are over 30 years old, making them vulnerable to exploitation, pollution, and extinction. The fish was caught as part of a monitoring program to assess the health and population size of the fish. It is believed that the fish species is recovering to the point where a viable fishery now exists. Limited recreational fishing is allowed in some states.
Read more at CBS Minnesota.
Image credit: Wisconsin DNR