EPA announces Great Lakes revitalization plan
2
by Dave Hochanadel
— February 22, 2010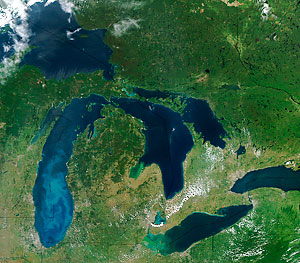 The Environmental Protection Agency unveiled on Sunday a $2.2 billion, five-year plan to clean up the Great Lakes. EPA Administrator Lisa Jackson met with governors of states that touch the lakes to explain an "action plan" aimed at hindering invasive species such as Asian carp, cleaning up pollutants, and remediating wetlands.
The plan's goals include a "zero-tolerance policy" toward future invasive species that threaten to stifle native plants and wildlife; roughly $60 million will go toward fighting Asian carp.
Other objectives are to clean up some of the region's most polluted sites, improve water quality in shallow areas, which are beset by unsightly algal blooms caused by city and farm runoff, and protect nearly 100,000 wetland acres.
President Barack Obama pledged during his 2008 campaign that he would commit $5 billion over a decade to address a Great Lakes cleanup wish list developed by several agencies, scientists, and activists.
At the end of last year, Congress authorized his request for a first installment of $475 million, and Obama recently proposed adding $300 million for the fiscal year that starts in October. The EPA's new plan depends on the annual installment of $475 million through 2014.
An organization called Healing Our Waters-Great Lakes Coalition voiced concern that too much of the EPA spending will fund the effort against invasive species, the AP reports. The organization contests that other parts of the government should finance that objective so the EPA can focus its resources elsewhere.
What do you think of how the federal funding will be allocated? Share your thoughts in the comments below.
EPA announces plan to clean up Great Lakes [Reuters] Feds outline plan to nurse Great Lakes to health [The Boston Herald / Associated Press] Image Credit: Jeff Schmaltz, MODIS Rapid Response Team, NASA/GSFC