California's agriculture polluting its groundwater
0
by Kevin Rose
— March 22, 2012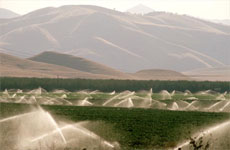 A recent water quality study shows that over a quarter of a million residents in California's agriculturally productive central valley are exposed to nitrate-contaminated water. The problem is expected to grow quickly in years to come; over 80 percent of residents in the central valley could be at risk of nitrate-related health and financial problems by 2050.
High nitrate pollution has been linked to certain types of cancer, skin rashes and discoloration, hair loss and birth defects. High nitrate levels in drinking water can also be fatal to infants. The Environmental Protection Agency regulates nitrate levels; concentrations above 10 parts per million are considered unsafe.
Reducing nitrates in California's contaminated water supplies is estimated to cost $20 to 36 million per year over the next 20 years. The contaminated region represents 40 percent of California's irrigated cropland, half its dairy land, and a $13.7 billion portion of the state's economy.
Read more at Inland News Today, MSNBC and Environmental News Service.
Image credit: reallynatural.com