No new Great Lakes invasives since 2006
0
by Audrey Rabalais
— April 11, 2012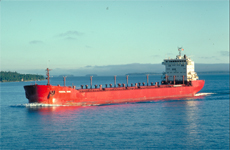 There have been no new confirmed invasive species to enter the Great Lakes since 2006, thanks to a program requiring ships to change their ballast at sea. The ballast is a tank on the bottom of a ship that holds water for balance. Since 1993, ships have been asked to exchange their ballasts by flushing them with saltwater – toxic to invasive freshwater species. In 2006, Canadian and U.S. governments mandated the ballast exchange, also known as "swish and spit".
The U.S. Coast Guard and Environmental Protection Agency will require on-board ballast water treatment including chemicals, ultraviolet light, filters and other technology starting in 2014 for new ships and 2016 for older ships.
Read more at Duluth News Tribune.
Image credit: EPA.