Arsenic found in US water systems
0
by Adam Redling
— August 15, 2011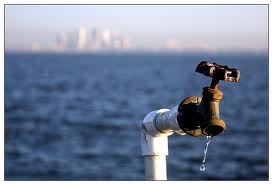 The U.S. Environmental Protection Agency published its findings this past January stating that nearly 1,000 water systems throughout the United States serving 1.1 million people have excessive amounts of arsenic—a known carcinogen— present.
914 of these contaminated water systems are located in communities without the economic flexibility to finance required upgrades by themselves.
Legislation in the Senate is seeking to expand federal funding to low-income communities in order to provide the necessary technologies needed to effectively filter their water.  However, it has been estimated that $17 billion would need to be spent annually to ensure safe drinking water nationally, which is more than is currently being allocated by the United States government.
American Arsenic: After a Decade, Small Communities Still Struggle to Meet Federal Drinking Water Standards [Circle of Blue]
Image Credit: The Harrington Group