Great Lakes: Congress offers bipartisan support for restoration bill
0
by Dave Hochanadel
— March 10, 2010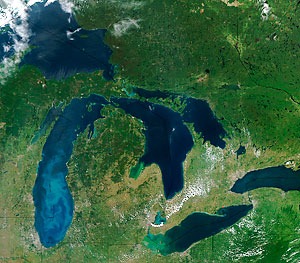 Funding for Great Lakes programs, including toxic cleanup and invasive species prevention, might all be consolidated into a single legislative package that could facilitate a permanent funding source for restoration efforts. The bipartisan legislation, which promises supporting restoration at a rate of $650 million per year for the next half decade, has been introduced in the Senate and House, according to the Environment News Service.
The Great Lakes Ecosystem Protection Act, introduced by Senator Carl Levin (D-Mich.) on Thursday, would combine the $475 million Great Lakes Restoration Initiative, $150 million Great Lakes Legacy Act, and $25 million for the Great Lakes National Program Office into a five-year authorization. The goal is to eliminate the annual battle for funds and instead allow better application, accountability, and long-term coordination.
The Great Lakes Restoration Initiative was first introduced by President Barack Obama in November 2009; its goals include a "zero-tolerance policy" toward invasive species, clean up of some of the region's most polluted sites, improved water quality in shallow areas, and protection of nearly 100,000 wetland acres. The Great Lakes Legacy Act aims at removing contaminated sediments from the lakes and their connecting waters. Finally, the U.S. EPA's Great Lakes National Program Office oversees existing Great Lakes programs for the agency.
Approval of the bill would also lead to the creation of the first permanent advisory group to the EPA that is focused on Great Lakes matters. This advisory group would consist of two tiers: The Great Lakes Leadership Council and the Great Lakes Management Committee.
The Great Lakes Leadership Council would include representatives from federal agencies, states, tribes, and local governments. This council would be responsible for devising long-term and annual goals and reporting progress to Congress, the president, and the public.
The Great Lakes Management Committee would report to the GLLC and would provide direction on planning, assessment, and reporting efforts. It would also help track and assist project implementations as well as devise solutions for problems that arise.
The introduction of the bill has been met with widespread applause from environmental organizations. Jill Ryan, co-chair of Healing Our Waters-Great Lakes Coalition and executive director of Freshwater Future, praised the legislation.
"Passage of this bill will pay huge dividends for the people, businesses and communities which rely on the lakes 365 days a year," she told the Environment News Service. "We urge the U.S. Congress to pass this bill, before the problems get worse and the solutions get more costly."
Bipartisan Great Lakes Restoration Bill Wins Environmental Support [Environment News Service]
Image Credit: Jeff Schmaltz, MODIS Rapid Response Team, NASA/GSFC