Heavy rain and sewer overflows worsen Great Lakes beach pollution
0
by Dave Hochanadel
— August 4, 2010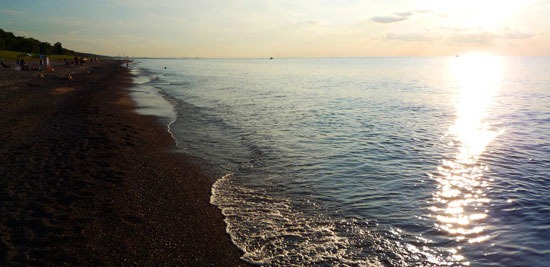 Heavy rain this summer has caused unusually high numbers of combined sewer overflows, or CSOs, across Great Lakes states, impairing water quality and worsening the risk to area beachgoers.
Just this Monday, roughly 49,000 gallons of rain and sewage overflowed into Lake Superior in Duluth, Minn.
A few weekends ago, seven inches of rain fell on Chicago, the city declared disaster, and water quality officials discharged sewer overflow into Lake Michigan to prevent further flooding in the city. The Chicago Park District had to close beaches in the area because of the increased risk from harmful contaminants.
And as mentioned yesterday, Toledo has released raw sewage into Lake Erie tributaries during every month for the past year. In May, the city experienced 127 overflows, and Detroit hasn't fared well this summer either.
Great Lakes states experience significantly more CSOs than the rest of the nation. As a consequence, Great Lakes beaches are the most polluted in the country, according to Natural Resources Defense Council attorney Thomas Cmar.
Cmar shared the following statistics:
In 2009, as many as 10% of Great Lakes beachgoers reported getting sick after swimming at open beaches. U.S. Great Lakes beaches suffered 3,300 days of cumulative closings and advisories, with a pollution rate that is twice the national average. Overall, 13% of the samples collected at 408 Great Lakes beaches exceeded daily maximum standards for E. coli. 60 of those beaches, across all 8 Great Lakes states, recorded beachwater samples exceeding daily maximum E. coli standards more than 25% of the time.
Combined sewer overflows are largely the result of outdated or inadequate sewer systems. For those not familiar, these combined sewer systems collect not only stormwater runoff, but raw sewage and industrial wastewater as well. Combined sewers normally flow into a water treatment plant. During a sewer overflow, however, this toxic concoction is released directly into nearby surface waters.
A combination of this raw waste and warmer water temperatures creates a productive breeding ground for harmful bacteria, such as E. coli. E. coli also thrives within algal blooms.
Controlling CSOs has been identified as one of the key methods for ensuring better water quality and safer beaches. A program, for example, called the Toledo Waterways Initiative aims to end sewage overflows in the city by more than doubling sewer capacity to allow it to handle even heavy storm events without CSOs.
Additionally, several Great Lakes Restoration Initiative-funded projects are aimed at researching and minimizing beach pollution. For instance, the Door County Soil and Water Conservation Department is a finalist for a $250,000 GLRI grant for a project to minimize beach runoff. Runoff at the beach can be reduced using native vegetation, along with coarser sand to aid runoff filtration.
What do you think of the condition of Great Lakes beaches? Share your thoughts in the comments below.
Early Monday rains cause sewage overflow in Duluth [Duluth News Tribune] Door County is finalist for $250K Great Lakes Restoration Initiative grant [Greenbay Press Gazette] Why Do Great Lakes Beaches Close? The Answer Begins In Our Sewers [Thom Cmar's Blog] Parks ban swimming as rains force sewer discharge into lake [Chicago Breaking News Center] Declaring Disaster As Flood Clean-Up Continues [Chicagoist] Great Lakes Restoration Initiative [U.S. Environmental Protection Agency]
Image Credit: http://www.flickr.com/photos/jessicareeder/3833465737/