Zebra mussels nearing Manitoba waters
0
by Dave Hochanadel
— July 13, 2010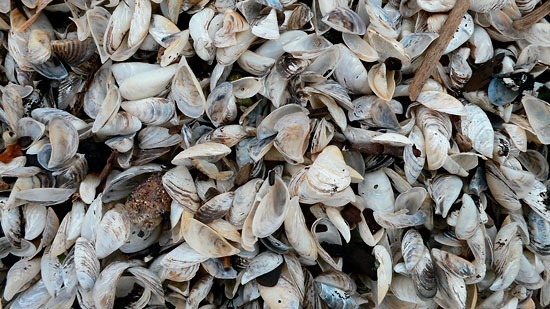 The notorious zebra mussels continue to move through North American waterways, and now they are close to entering freshwaters in the Canadian province of Manitoba.
Larval zebra mussels have been found in the Red River in North Dakota, which flows north through Manitoba and empties into Lake Winnipeg.
"This does increase the risk that zebra mussels will enter eventually into Manitoba's waterways," said Wendy Ralley, a water-quality specialist at the Manitoba Water Stewardship.
Manitoba officials have been preparing for the mussels' arrival since the early 1990s, but they're increasing their public education efforts to try to slow the species' influx into the province. They are asking boaters who travel to areas with zebra mussels to check their hulls thoroughly before returning to Manitoba waters.
Zebra mussels (Dreissena polymorpha) first appeared in the Great Lakes region around the beginning of the 1990s. The non-native species were transported from Asia to North America via the ballast water of ocean-going ships. They've now spread all the way west to California as well as infested the Mississippi River system and its tributaries down to the Gulf of Mexico. The mussels' only predators are smallmouth and largemouth bass, but their appetites can't keep up with zebra mussel reproduction.
As mentioned before, zebra mussels can be a mixed blessing and a curse. The small mussels are filter feeders, and they intake and large volumes of water, roughly one liter per day. They remove suspended sediments and toxic substances within the water, making it cleaner and clearer. This has allowed a number of native plants in the Great Lakes to make a comeback.
The invasive species, however, also generate immense financial burdens and are a nuisance to beachgoers and boaters. They cover the undersides of docks, boats, and anchors, and their sharp shells can cut people's feet.
The mussels work their way into and clog city water pipes, resulting in expensive maintenance costs for water purification facilities, waste-water treatment plants, and hydroelectric dams.
"They get into pipes, pumps and into propellers, and they certainly impact our native species of clams and other organisms," Ralley said, adding that Manitoba plants to install filters and other devices to try to limit the damage caused.
Zebra mussels poised to invade Manitoba [CBC News] Zebra mussels near our waters [Winnipeg Free Press]
Image Credit: http://www.flickr.com/photos/surrealis_uk/303575412/