Zebra mussels found in two critical Connecticut lakes
0
by Dave Hochanadel
— October 18, 2010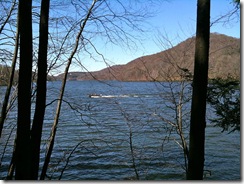 Zebra mussels have been found in two ecologically critical lakes in Connecticut — Lake Lillinonah and Lake Zoar. Connecticut Department of Environmental Protection officials are concerned the invasive species' proliferation in the lakes could threaten several native fish species as well as bald eagles that use Lillinonah as a wintering-over habitat.
A biologist found the invasive species while surveying native mussels behind two dams last week. Both lakes are impoundments along the Housatonic River and the result of damming for hydroelectric power. They are popular recreational and boating sites and serve as vital habitats for bass and northern pike.
Lake Lillinonah is already considered an "impaired" lake. It is highly eutrophic due to phosphorus from water treatment plants, lawn fertilizers, and farm runoff flowing downstream. Though some progress has been made to reduce eutrophication from these sources, officials worry the nutrient-rich lake will help the filter feeding zebra mussels thrive.
"So far, this is a small invasion — only one zebra mussel was found in Lillinonah and six in Lake Zoar — but this is still a big concern," said Bill Foreman, an environmental analyst with the DEP's inland fisheries division. "These non-native mussels can filter out the freshwater plankton that native species rely on and then completely alter the food chain, affecting both the fish and the wildlife that rely on the lake for food."
The mussels have turned up in the Housatonic River drainage before, appearing as far back as 1998 in Twin Lakes. However, DEP biologists are now concerned the recent discovery indicates the mussels could be migrating downstream or boaters have been ignoring regulations requiring them to clean hulls and engine intakes.
If the zebra mussels steal away food needed by native fish species, they could also compromise Lake Lillinonah's usefulness to bald eagles, which use Lillinonah as a major wintering-over habitat. Relying on fish for more than 80 percent of their diet, the eagles scour for food in the lake after rivers and lakes in northern New England freeze over.
The eagles have made a remarkable comeback in New England since the insecticide DDT, which inhibited their reproductive rates, was outlawed in 1972. There are now about 40 bald eagles that spend the winter along the lake, turning Lillinonah into a birding site and vital habitat for the species.
Zebra mussels are notorious for their ability to latch onto boats and other surfaces and travel from one water body to another — and their ability to proliferate rapidly. A single female can produce between 30,000 and 1 million eggs per year.
The invasive mussels are also capable of generating tremendous financial burdens by covering the undersides of docks, boats, and anchors, as well as clogging intakes pipes of water treatment plants.
DEP: Invasive Species Spotted In 2 More Connecticut Lakes [Hartford Courant] Image Credit: Courtesy of H. Morrow Long