Sampling of Ohio lakes shows high levels of algae toxin, coliform bacteria
1
by Dave Hochanadel
— August 17, 2010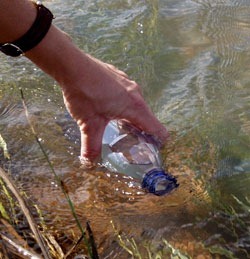 A survey of Ohio lakes conducted by The Columbus Dispatch reveals that the blue-green algae problem is only one serious issue facing the state's water quality.
The toxic algae, also called cyanobacteria, produce as many as four liver and nerve toxins harmful to people and animals. Officials say it's important to monitor them all, as one can be present in dangerous levels without the others.
This dangerous type of algae is of course smothering Grand Lake St. Marys as well as reaching all-time highs in Lake Erie. Additionally, there have been several reports of blue-green algae in other Ohio lakes, but the state only tests lakes that show visible signs of the harmful algal blooms. Heavy rain in the summer leads to a greater amount of phosphorus runoff that feeds the blooms, which are most problematic on the hottest summer days when they can spread rapidly across the surface.
Following the startling levels of blue-green algae that have appeared at Grand Lake St. Marys this summer, the state has bolstered efforts to test for algae toxins. When a bloom is reported in a state lake, warning signs are installed, and water samples are tested for the four toxins commonly found in the algae.
In the interest of attaining a broader sense of water quality conditions in the Buckeye State, The Dispatch, with the help of two commercial labs, sampled water at 20 state park swimming areas on Aug. 8 — even ones without visible signs of blooms.
Two samples, at Deer Creek and Madison Lake state parks, found one of the four toxins at levels that exceeded maximum contaminant levels for drinking water, with Deer Creek showing levels four times the limit. The sampling effort discovered traces of blue-green algae toxins in all but one of the tested areas.
Of the samples taken by The Dispatch, 14 of them also found concentrations of fecal coliform bacteria. These bacteria have long been used as indicators of possible water pollution by intestinal parasites and pathogens.
While most coliforms are not pathogenic, they serve as valuable indicators because they are more common than pathogenic bacteria, have longer viability in freshwater, and are relatively easy to identify. Since it's infeasible to test for every type of pathogen when assessing water quality, researchers test for these easily detectable indicator organisms with the assumption that killing the indicator organisms will also eliminate the pathogens during the disinfection process.
In one state park beach, fecal coliform was more than seven times the safe level, and four times the limit at Buckeye Lake's Fairfield Park Beach. Experts told The Dispatch, however, that the coliform levels weren't surprising.
Do you live near a lake that shows signs of harmful contamination? Share the details in the comments below.
Algae isn't only problem for lakes [The Columbus Dispatch] Image Credit: http://www.bristol.ac.uk/aquatest/media/pressimages/samplebottleinriver.jpg