Record high phosphorus levels recorded in two Lake Erie tributaries
1
by Dave Hochanadel
— July 27, 2010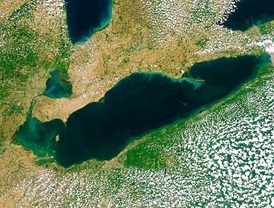 Two of Lake Erie's largest tributaries have shown some of the highest-ever phosphorus levels this summer, potentially worsening eutrophication, algal blooms, and the lake's "dead zones."
Scientists from the National Center for Water Quality Research at Heidelberg University released a report Monday that shows the Maumee and Sandusky rivers have had some of the worst phosphorus levels in the last 30 years.
Researchers took three samples per day from April through June and measured 261 tons of dissolved phosphorus in the Maumee River, which is the highest level the university has recorded in its 33 years of monitoring the river. Additionally, levels in the Sandusky River during the same period were at their second highest rate in 35 years.
The record high phosphorus levels were primarily caused by northwest Ohio's heavy rainfall in the spring and early summer, which had collected additional farmland runoff, according to Ken Krieger, director of the National Center for Water Quality Research at Heidelberg.
The research shows that stronger efforts must be made to control agricultural runoff, according to David Baker, who oversees the monitoring program.
"Changes in tillage practices, nutrient management practices, drainage intensity, soil compaction and buffer strips all can alter pollutant runoff," he said.
Although phosphorus levels in Lake Erie seemed to be on the decline in the 1980s, that favorable trend started to falter in the '90s. Moreover, dissolved phosphorus entering the Maumee and Sandusky rivers has more than tripled since 1995, according to the Ohio Lake Erie Phosphorus Task Force
Perhaps one of Ohio's most palpable examples of worsening nutrient loading is in Grand Lake St. Marys, the state's largest inland lake, which has been experiencing a massive bloom of toxic blue-green algae this summer.
Runoff from farms is the leading source of phosphorus pollution. Excess phosphorus-based fertilizer is commonly applied to farmland, and rain washes it into nearby waterways. The phosphorus then feeds algal blooms that give Lake Erie its bright green glow in the summer.
Though algae photosynthesize during the day, they respire at night, consuming dissolved oxygen and generating unlivable conditions for fish and other aquatic life. The lake's algae problem is worse in its shallow western basin, where the Maumee River flows into it through Maumee Bay.
What phosphorus control measures do you think are most important? Share your thoughts in the comments below.
Rains increase phosphorus dumping into Lake Erie [The Associated Press] Rivers' runoff pollutes Lake Erie [The Columbus Dispatch]
Image Credit: Courtesy of MODIS Land Rapid Response Team, NASA/GSFC