Wisconsin fish could become climate change casualty
1
by Sylvia Maye
— August 29, 2011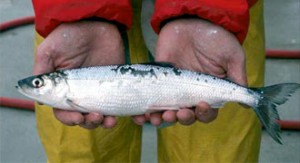 According to a new study conducted by the University of Wisconsin-Madison and the Wisconsin Department of Natural Resources, 30 to 70 percent of Wisconsin's cisco fish, sometimes called lake herring, could become nonexistent in Wisconsin lakes by the year 2100 due to changing climate conditions.
A member of the trout and salmon family, the cisco is found in about 170 inland lakes in Wisconsin and also in the Great Lakes. Sapna Sharma, a researcher at the UW-Madison Center for Limnology, said the cisco is the most vulnerable fish species in Wisconsin because it depends on cold water. However, continuously warmer weather during the winter months could spell disaster for the cisco in the future.
UW-Madison website reports that, from an ecological perspective, when fish species are displaced by changes in water temperature or for other reasons, it opens the door to other species, especially exotic invasives, such as rainbow smelt. In addition to an ecological impact, the disappearing of the cisco could have a serious socio-economic fall-out in places where fishing is a traditional past-time and multi-billion dollar industry.
Read the complete story at University of Wisconsin-Madison News.
Image Credit: John Lyons