NOAA grant funds study of Bay Shore power plant's impact
2
by Dave Hochanadel
— May 3, 2010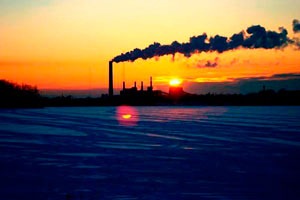 A three-year grant from the NOAA will fund research into the ecosystem impacts of FirstEnergy's Bay Shore coal power plant in Oregon, Ohio.
As previously reported, the plant kills about 60 million fish annually when powerful suction systems draw water from Maumee Bay for the power generator's cooling system. Fish and fish larvae are either smashed into water intake screens or sucked into the plant where extreme temperatures lead to almost certain demise.
The grant will fund research at the University of Toledo's Lake Erie Center, as well as the Ohio Department of Natural Resources, U.S. Geological Survey, and the NOAA Great Lakes Environmental Research Laboratory (GLERL), according to the Lake Erie Center's newsletter [PDF, 28 mb].
The 55-year-old power plant's impact on the aquatic ecosystem is considered the worst in the Great Lakes. That's at least partly because of the plant's location, which even the Ohio Environmental Protection Agency has noted is a poor choice.
The plant sits at the confluence of the Maumee River and Maumee Bay in Lake Erie, a location that serves as one of the Great Lakes' most valuable fish nurseries. Due to its proximity to this nursery, the plant destroys roughly 209 million fish eggs and 2.2 trillion microscopic larval fish that are pulled through the intake screens, according to the Toledo Blade.
The NOAA-funded study aims to quantify how great an impact this has on the area's fish community.
Dr. Christine Mayer, a UT professor of aquatic ecology, will work with a graduate student to sample and monitor larval fish coming from the Maumee River. The two will use hydroacoustic monitoring and net collections to assess how many larval fish are likely to become entrained at the power plant, then they'll take samples at the plant's outflow to count how many survive.
Additionally, the LEC's genetic laboratory will study larval walleye DNA from Maumee Bay to assess overall abundance and genetic diversity and attempt to determine how the power plant affects the local gene pool and population size.
Researchers will also investigate the concern that the heated water discharged from the plant may facilitate harmful blue-green algal blooms, which can grow more easily in warmer water.
What do you think of Bay Shore's effects on Maumee Bay and Lake Erie? Share your thoughts in the comments.
Spring 2010 Lake Erie Center Newsletter [University of Toledo Lake Erie Center] Hearing addresses fish kills at Bay Shore [The Toledo Blade] Image Credit: http://outdoors.webshots.com/photo/1145415175034549570VMpBPd