Sturgeon species at risk, but some Great Lakes populations on the rise
0
by Dave Hochanadel
— March 25, 2010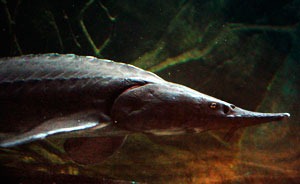 Although sturgeon species such as the beluga are at risk of extinction, sturgeon populations in a certain Great Lakes area are actually increasing.
The International Union for Conservation of Nature said last week that banning fishers from the Caspian Sea and other locations might be the only way to save the beluga along with its precious eggs, commonly known as caviar. The organization announced that beluga sturgeon are now listed as critically endangered for the first time.
Cleveland Plain Dealer environmental reporter Michael Scott, however, noted in a blog that although all 18 types of sturgeon assessed by the IUCN are threatened overall, some sturgeon in the Great lakes (mostly in Wisconsin) are only included in the IUCN "Red List" for their population increase. Scott explains:
That's thanks in large part to a management plan by the Wisconsin Department of Natural Resources, which in October 2009 showed off its tagging procedure to environmental journalists touring the state as part of a Institutes for Journalism and Natural Resources fellowship. The state is home to the largest American stock of lake sturgeon.

The sturgeon enjoys an iconic status in Wisconsin, where locals gather at the banks of waterways like the Wolf River each spring to try to catch site of the huge, ancient species as it spawns in the cool waters, said Ron Bruch, a fisheries manager for the Wisconsin DNR.
Ancient Sturgeon fish species endangered, but coming back in Great Lakes region [The Cleveland Plain Dealer] Sturgeon more critically endangered than any other group of species [International Union for Conservation of Nature] Image Credit: http://www.flickr.com/photos/aarongustafson/ / CC BY-SA 2.0