Product Spotlight: USGS Style A Staff Gauge
0
by Kelly Blumenschein
— August 19, 2011
The USGS Style A Staff Gauge provides a quick and easy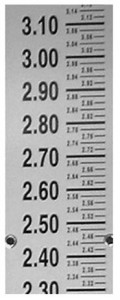 visual means of determining water level.
Designed for high accuracy and readability, each style staff gauge is coated in a special porcelain enamel to protect from rust, corrosion and discoloration. Each instrument is constructed of iron allowing it to last in extreme conditions and can be easily fastened to walls, piers, and other structures.
The style staff gauge is a popular tool for measuring level in lakes, rivers, reservoirs, and other bodies of water. It provides a cost efficient solution and can remain at a site for multiple years at a time with little damage or wear if installed and maintained properly.
Measurement ranges on the style staff gauges are offered at nine different intervals, from 0-3.32 ft to roughly 30 ft.
For more information on the USGS Style A Staff Gauge, please email customercare@fondriest.com or call 888.426.2151.