Musty smell might indicate toxicity, new cyanobacteria study shows
1
by Dave Hochanadel
— September 14, 2010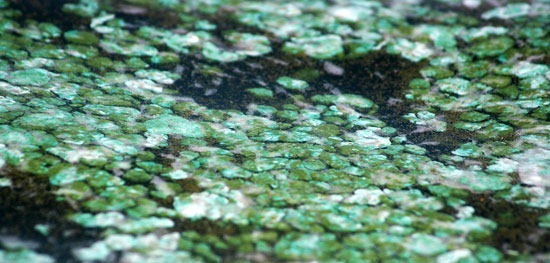 The threat posed by blue-green algal blooms might not be accurately measured by current assessment methods, a new U.S. Geological Survey report finds. Microcystins have historically been the only type of cyanotoxin considered when evaluating water quality for recreation or human consumption. The new study shows, however, that other cyanotoxins may be more common than previously thought.
The study also discovered that musty or Earthy odors serve as relatively effective warnings for the presence of harmful cyanotoxins. USGS scientists studying the effects of the harmful algal blooms on lake water quality found that blooms in Midwestern lakes produced mixtures of cyanotoxins and taste-and-odor causing compounds, which almost always co-occurred in water samples.
"It is commonly believed that there are no health risks associated with taste-and-odor compounds," said Dr. Jennifer Graham, USGS limnologist and lead scientist on this study. "While taste-and-odor compounds are not toxic, these pungent compounds were always found with cyanotoxins in the blooms sampled. This finding highlights the need for increased cyanotoxin surveillance during taste-and-odor events so that the public can be advised, and waters can be effectively treated."
Researchers collected water samples from cyanobacterial blooms at 23 lakes in Iowa, Kansas, Minnesota, and Missouri. Samples were analyzed for 13 toxins and two taste-and-odor compounds. Lakes were targeted based on a known history of cyanobacterial bloom occurrence.
The research team found taste-and-odor compounds in 91 percent of samples. Since toxins occurred more frequently than these compounds, however, odor alone cannot provide sufficient warning to guarantee safety from cyanotoxin exposure.
Cyanotoxins can be poisonous to humans, aquatic life, and wildlife, with symptoms ranging from rashes and stomach aches, to seizures and even death. They can cause allergic reactions, respiratory issues, attack the liver and kidneys, or affect the nervous system in mammals, including humans. Because of this, cyanobacteria has become an increasing threat to beachgoers and drinking water supplies, particularly in and around Lake Erie and inland lakes across the Midwest.
Additional details about the study, along with photos and an audio podcast about cyanobacteria, can be accessed at http://toxics.usgs.gov/highlights/algal_toxins/.
Algal Blooms Consistently Produce Complex Mixtures of Cyanotoxins and Co-Occur with Taste-and-Odor Causing Compounds in 23 Midwestern Lakes [U.S. Geological Survey ] Water odor, taste could serve as warning of toxicity [Water World]
Image Credit: http://www.flickr.com/photos/ms4denmark/722002112/