Low funds means shallow Great Lakes harbors
0
by Audrey Rabalais
— April 5, 2012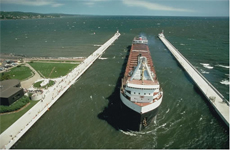 A lack of funds for dredging and maintenance in some Great Lakes harbors is not only hurting the lakes, but the tourism industry as well. The Army Corps of Engineers found that 15 harbors are as shallow as 4 feet in depth, enough water for very small boats to enter the harbor. Because recreational boats may not be able to get into the harbors due to excess sand and sediment, the state and local businesses could lose financial support.
Currently, the cost of necessary projects is at $200 million. The Army Corps of Engineers is only distributing money to commercial shipping harbors at this time.
Read more at The Detroit Free Press.
Image credit: NOAA News.