Lake Tahoe analysis lays out timeline for climate change's impacts
1
by Dave Hochanadel
— November 16, 2010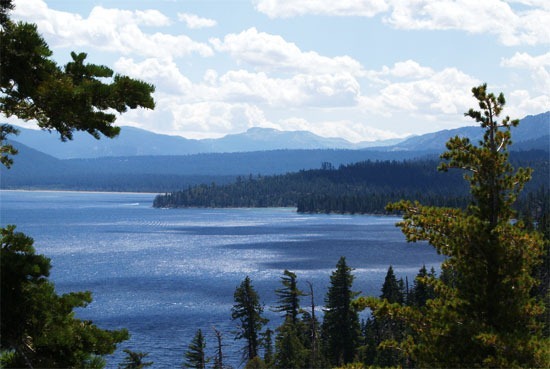 Researchers at UC Davis have released a comprehensive forecast of how climate change might affect Lake Tahoe. The report includes some chilling predictions about how a warming planet could impact the lake over the next 90 years.
Even the study's "optimistic" scenario projects that:
Average snowpack in the Tahoe Basin will decline 40 to 60 percent by the year 2100,
Floods will increase drastically by the middle of the century,
Prolonged droughts will become more common at the end of the century, and
A physical-chemical process resulting in the release of large amounts of phosphorus from the lake's bottom sediments will threaten the lakes ecology by the second half of the century
The report draws on 100 years of historical data that describe changes in temperature and precipitation. It also uses complex computer models to project changes as far ahead as 2100.
The researchers generated outcomes for two possible carbon emission scenarios. The "optimistic" predictions, including the ones listed above, assume that aggressive climate action is taken and that growth slows. A second "business as usual" scenario accounts for population growth and national and international environmental policies remaining the same.
The study was conducted for the U.S. Forest Service's Pacific Southwest Research Station in the interest of helping scientists and resource managers make sound and strategic decisions to minimize climate change's impact on the lake.
"Public dollars are funding restoration programs in the Tahoe region, which is a special place for millions of people," said UC Davis researcher Robert Coats, one of the report's authors. "For these programs to succeed, resource managers need to know what to expect in the coming decades. Will we have more or less snow, rain and runoff? Will the erosion controls and stormwater basins we are devising now still be useful in 30 or 50 years? What impact might climate change have for Lake Tahoe's water quality and aquatic ecology?"
The report predicts that precipitation levels will remain the same, but that it will shift from snowfall to rain. Earlier snowmelts and runoff are also predicted. Precipitation could come entirely from rain during some years by the end of the century.
The report predicts an increase in floods and that peak water flows from Tahoe's largest tributary, the Upper Truckee River, could more than double. 100-year floods of the future could rival 1000-year floods of today.
Tahoe also has a future of increased stormwater runoff, severe droughts, and decade-long periods where vertical mixing to the bottom does not occur, the report prognosticates. Complete lake turnovers usually occur once every four years at present, and it is this decrease in turnover that is expected to catalyst the creation of more phosphorus in the lake's sediment. The lack of turnovers could also deprive oxygen from aquatic life, including popular trout and other game fish.
— Read more about the study. And for a digital copy of the complete, 208-page report, download the PDF.
New Tahoe analysis adds 'when' and 'how much' to climate-change forecasts [UC Davis News Service] Image Credit: http://www.flickr.com/photos/uzvards/3882775153/