Expanded hatchery will put healthier fish in Ohio rivers
0
by Audrey Rabalais
— April 17, 2012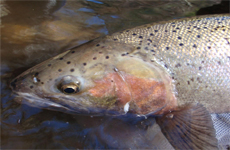 The Ohio Division of Wildlife's Castalia Fish Hatchery near Lake Erie recently expanded from 1,440 to 12,000 square feet, allowing them to raise more steelhead trout for local rivers and lakes. Before the expansion, many of Ohio's fishing locales were stocked with less healthy, already-hatched trout from Michigan. The new hatchery will allow managers to accept more eggs rather than fish, letting the fish grow to a healthy size before released.
Most fish released from the hatchery stay in the stream where they are released, allowing them to spawn and increase numbers in Lake Erie.
Read more at the Columbus Dispatch.
Image credit: NOAA Fisheries Service.