GLRI dispenses $2M in grants to 3 Michigan projects
0
by Dave Hochanadel
— September 22, 2010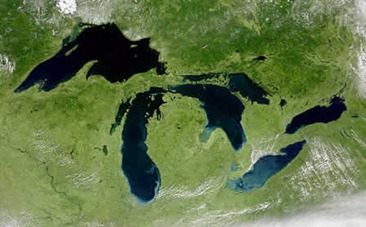 Three Michigan projects targeted at invasive species and stormwater runoff will receive more than $2 million in Great Lakes Restoration Initiative funding, the Environmental Protection Agency announced earlier this week.
The Michigan Department of Natural Resources and Environment was awarded $1,028,548 for a project titled "Rapid Response to Invasive Species," which aims to use the most effective techniques to eradicate and control several invasive aquatic plant species that harm the Great Lakes.
"Restoring the Lake Erie Corridor Through Green Streets," a project managed by the Southeast Michigan Council of Governments, received $500,000. The project involves the construction of bioswales, tree trenches, and grow zones to manage road runoff. It aims to reduce annual stormwater runoff, sediment, and nutrient loading by approximately 50 percent. A "Great Lakes Green Streets Guidebook" will also be developed to help teach other municipalities how to implement similar programs.
Finally, $519,564 of GLRI funding will go to Wayne State University for "Verification of Ballast Water Treatment Technology." This project will develop technology to help assess the effectiveness and durability of shipboard ballast water treatment systems. Wayne State is collaborating with a ballast water treatment company to allow testing both in the lab and with actual shipboard ballast water operations.
The GLRI program is expected to dispense 99 grants to Michigan programs, totaling roughly $63 million. Funded projects will advance five key priorities, which include:
Cleaning up toxics and toxic hot spots around the Great Lakes.
Combating invasive species.
Promoting nearshore health by protecting watersheds from polluted runoff.
Restoring wetlands and other habitats.
Accountability and working with strategic partners on outreach.
First grants awarded in Michigan for President's Great Lakes Restoration Initiative [U.S. Environmental Protection Agency]