Asian carp might have second route to Great Lakes
1
by Dave Hochanadel
— July 2, 2010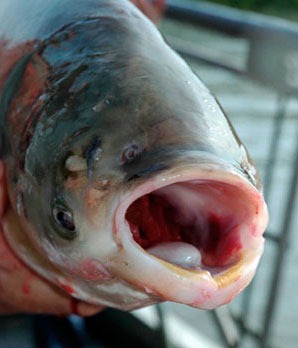 The Asian carp might now have a second avenue to invade the Great Lakes. The invasive fish have been moving through the Wabash River in northern Indiana. The river doesn't flow directly into the Great Lakes, but it can flood into the Maumee River, which exits into Lake Erie's Maumee Bay.
Officials from the Indiana Department of Natural Resources confirmed yesterday the recent discovery of an Asian carp spawning bed in the river near central Indiana. The spawning site is approximately 120 miles downriver from a natural wetland that separates the Wabash River from the Maumee River.
Some of the carp that have been working their way up the Mississippi River toward Lake Michigan were likely diverted by the Ohio River and ended up in the Wabash near where Indiana, Illinois, and Kentucky meet.
The IDNR is now investigating whether the half-mile wetland that adjoins the two rivers could allow the carp to make their way into the Maumee. The two rivers are about three-quarters of a mile apart in an area prone to floods.
"We're looking at how much flooding would be needed to create an adequate passage," said Phil Bloom, spokesman for the Indiana Department of Natural Resources.
The carp's progress in the Wabash River came to the surprise of Sen. Carl Levin (D-Mich.), who co-chairs a Senate Great Lakes task force with Sen. George Voinovich (R-Ohio).
"The news that Asian carp in the Wabash River in Indiana are mere miles away from the Great Lakes Basin is yet another alarm calling us to address this clear threat," Levin said in a statement, adding that immediate action must be taken to stop the carp's migration toward Lake Erie.
Bloom noted that a 91-foot-high dam near Huntington in northwestern Indiana has thus far prevented the carp from entering the headwaters of the Wabash.
"We have no evidence that Asian carp have been able to penetrate that barrier," he said, but the IDNR is still working with the U.S. Army Corps of Engineers and U.S. Geological Survey to assess the threat.
A few Asian carp have been found in Lake Erie over the years, including a large one that was netted in 2000, but there have only been a handful of such cases. Asian carp have also been in the Wabash for nearly 15 years, Bloom said. They were first found in Indiana in 1996.
How realistic do you think this second Asian carp threat is? Share your thoughts in the comments.
Asian carp steadily moving up Indiana [The Chicago Tribune] Asian carp could head to Lake Erie [The Detroit Free Press] Indiana DNR says it's way ahead of Asian carp [The Associated Press] Feared Asian carp may end up in Maumee via Fort Wayne [The Toledo Blade] Asian carp could destroy $7B fish economy [The SouthtownStar]
Image Credit: T. Lawrence, Great Lakes Fishery Management