Dead zone in the Gulf is expanding
0
by Kristen Hammaker
— August 24, 2011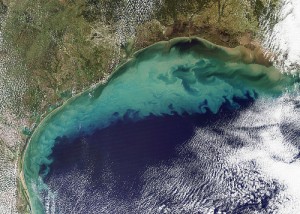 The dead zone in the Gulf of Mexico appears to be growing larger, but has not broken any records as scientists originally predicted in June. The 11th-largest dead zone on record, it's approximately 3,300 square miles, the area of Rhode Island and Delaware combined.
U.S. Geological Survey scientists expected nitrogen-rich upper Midwest floodwaters to expand the dead zone to the size of Lake Erie, approximately 9,400 square miles. This would have trumped the size record of 8,400 square miles set in 2002 by nearly 10 percent. However, fortuitous extreme weather temporarily reduced the size of the deadly low-oxygen water. In late July, high waves associated with Tropical Storm Don assisted with aerating the water and preventing the dead zone from spreading.
The dead zone forms when river water, containing fertilizers and other chemicals, flows into the Gulf where algal blooms flourish on these nutrients. The resulting respiration process depletes oxygen from the water. The organisms then die en masse and fall to the seafloor, where the decomposition process further reduces dissolved oxygen. The resulting hypoxic conditions can be lethal to marine life, thus creating the term "dead zone." Benthic organisms, the foundation of aquatic ecosystems, suffer significantly in hypoxic conditions because they are unable to move to more oxygen-rich water. Some seafloor animals such as eels and crabs have been found swimming near the surface of the water to escape suffocation. Fish that can move are affected by high stress levels and biological changes.
Though there was natural relief in July, the Gulf is losing its ability to control the dead zone. When scientists toured the area in June, they found that the dead zone has been steadily increasing in size. The amount of nitrogen in the water has tripled over the past 50 years.
The Mississippi river flow combined with the natural flow of Gulf usually causes pockets of low oxygen to form off the Louisiana coast. The research team found that the zone extends west to the Texas border and east to Mobile Bay.
Federal, state and local government efforts to eliminate nutrient rich runoff have yet to result in reversing the low oxygen zone. The large dead zone will complicate the recovery from the  oil spill that plagued the gulf last year. The Mississippi River/Gulf of Mexico Watershed Nutrient Task Force has set 1,900 square miles as the target size for the dead zone.
Water pollution: Gulf dead zone could be largest-ever by 10 percent [E&E Publishing LLC]
Eels Point to Suffocating Gulf Floor [Science News]
Gulf dead zone one of the largest seen [Sun Herald]
Gulf 'Dead Zone' This Year Predicted to be the Largest in History [Huffington Post]
2011 Gulf of Mexico 'Dead Zone' Could be Biggest Ever [Science Daily]
Image Credit: Flickr