Lake Erie's ecosystem declining due to poisonous algae
1
by Adam Redling
— September 8, 2011
According to scientists, Lake Erie's ecology has been rapidly dying due to water pollution since the mid-1990s. Specifically, a toxic algae called microcystis has pervaded the lake and depleted significant portions of oxygen from the water.
These algae-infested waters snuff out the indigenous fish population, which is a substantial problem for the region that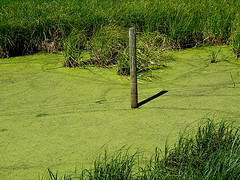 relies so heavily on sport fishing and lake tourism for its economic stability.
This is alarming for Lake Erie most notably due to the fact that it is the most fertile of the Great Lakes: It contains only 2 percent of the water, but 50 percent of their fish.
Other forces contributing to the decline of Lake Erie are the presence of invasive mussel species and the influx of agricultural pollutants that wreak havoc on Erie's ecosystem.
Read the complete article at onearth.org.
Image Credit: Flickr