Trivia game to protect Wisconsin's lakes
0
by Audrey Rabalais
— April 11, 2012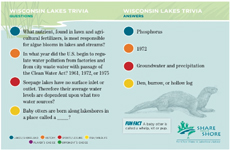 Residents of Wisconsin now have information about their lakes in a media they won't want to throw away – a trivia game. Experts from the University of Wisconsin and its branches, the Wisconsin Department of Natural Resources, and the Burnett County Land and Conservation Department put together the game which includes facts about flora, fauna and water quality. The game is targeted at lakeshore property owners in hopes that they will maintain and develop natural shorelines and respect native wildlife.
"We wanted to create something more durable that people can use and enjoy for years," said John Haack, a UW-Extension natural resources educator to The University of Wisconsin-Madison News.
Read more at the University of Wisconsin-Madison News.
Image credit: University of Wisconsin-Extension.