Supreme Court rejects second lock closure request
2
by Dave Hochanadel
— March 24, 2010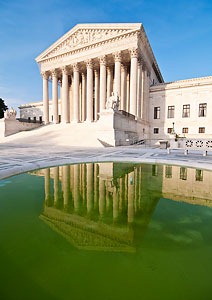 The Supreme Court has again refused Michigan's request for a preliminary injunction to close two Chicago locks in an effort to stop the Asian carp, Reuters reports.
The High Court had denied the first request in a January 19 decision. But Michigan Attorney general Mike Cox, along with numerous environmental groups, had hoped the introduction of new DNA evidence of the Asian carp entering Lake Michigan would be enough to change the justices' decision.
Michigan also changed its second request to accommodate concerns from state of Illinois and Chicago sewer authorities who worried lock closure could cause massive flooding and other problems. The language of the second request said the locks would be temporarily closed but could be opened to protect public health as safety, such as alleviating flood-level water or allowing vessels to pass for emergency response.
Many environmental groups along with the $7 billion Great Lakes fishing industry support the lock closure as a means to protect Great Lakes waters and ecosystems from the invasive species.
Solicitor General Elena Kagan urged the Supreme Court against the injunction, however, warning of the effects it could have on the Chicago-region and national economies. The court denied this second motion in a one-sentence order.
Although this is a setback for Michigan's legal fight to stop the Asian carp, it's far from over. Michigan still has a pending case before the High Court to reopen the 90-year-old "Chicago Diversion" case, which decided how Illinois manages the waterways that connect the Mississippi River Basin and the Great Lakes. The Supreme Court has scheduled a review of this request for April 16. Pennsylvania, New York, Ohio, Wisconsin, Minnesota, Indiana and the province of Ontario all support this reopening.
Michigan loses new request in Great Lakes carp case [Reuters] Image Credit: http://www.flickr.com/photos/tom_ruaat/ / CC BY-SA 2.0