Small 2010 Lake Erie walleye hatch predicted
3
by Dave Hochanadel
— August 11, 2010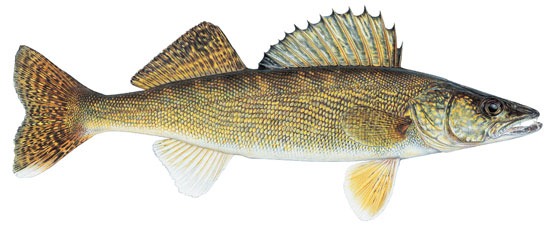 Preliminary July trawls indicate the 2010 Lake Erie walleye hatch will continue a nearly decade-long trend of declining stocks.
The recent trawls, according to the Toledo Blade, captured only three walleye per hectare of water, which is roughly the same as 2009. In 2008, there were four per hectare, and in 2007 there were eight, which is considered average.
For those unfamiliar, the trawling process involves pulling a large net across a measured distance of water. The total area netted is then calculated from the distance, and this is used in conjunction with how many walleye were caught in that area to estimate the year class strength.
July trawling provides only a preliminary estimate of the hatch size, Jeff Tyson, supervisor at the ODNR's Sandusky Fish Research Unit, told The Blade. A larger-scale, interagency August trawling is considered the "official" estimate.
"Things could change between now and August [trawls] when we get broader coverage and we get Ontario's samples as well," Tyson said, but he noted that the two trawls don't usually differ much.
The last major walleye hatch in Lake Erie occurred in 2003, when trawls produced 43 young walleye per hectare. Hatch sizes have been dropping since then. It's unprecedented to have this many consecutive years of substandard spawning.
There's little doubt the declining overall population stems from this inconsistent recruitment, which is the number of walleye added to the population from natural reproduction.
Tyson said several factors could have hindered this year's reproductive success, including warm water temperature, algal blooms, low dissolved oxygen levels, and heavy nutrient loading.
Two of the lake's major tributaries — the Maumee and Sandusky rivers — have been showing some of the highest-ever phosphorus levels this summer. The record-high levels were mostly caused by northwest Ohio's heavy rainfall in the spring and early summer, which had collected additional farmland runoff.
The heavy rain is also contributing to what's been termed a "sewage crisis" in the Great Lakes. As rainfall intensifies, there are more combined sewer overflows, or CSOs, that dump raw sewage into the water. In just one month, Toledo experienced 127 overflows, sending waste into the Lake Erie western basin.
Moreover, the Great Lakes have been showing all-time high water temperatures this summer, as a result of diminished ice cover last winter.
The heavy nutrient loading, sewage, and warmer temperatures have fueled already prevalent blue-green algal blooms in Lake Erie, which produce toxins harmful to fish, consume dissolved oxygen that fish need to breathe, and, unlike green algae, contribute nothing to the food web. Researchers are predicting "the mother of all blue-green algae counts" in the lake this summer.
There is also research into how significant an impact FirstEnergy's Bay Shore coal power plant in Oregon, Ohio has on fish populations. The plant sits at the confluence of the Maumee River and Maumee Bay and kills about 60 million fish annually when powerful suction systems draw water from the bay for the power generator's cooling system, which either smashes fish and larvae into water intake screens or pulls them into the plant where they are likely killed by extreme temperatures.
What factors do you think are hindering walleye hatches in Lake Erie? Share your thoughts in the comments below.
Walleye hatch? We'll get back to you [The Toledo Blade]
Image Credit: http://www.flickr.com/photos/cfso1952/4814374516/