Product Spotlight: In-Situ Aqua TROLL 100 Conductivity Logger
0
by Kelly Blumenschein
— April 19, 2011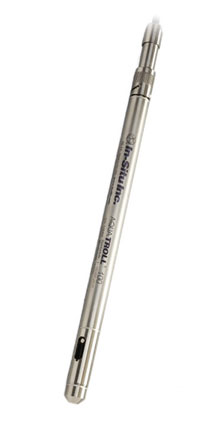 The In-Situ Aqua TROLL 100 simultaneously measures and logs water conductivity and temperature to characterize water quality changes or estimate contamination.
Conductivity measures water's ability to carry an electric current; if conductivity fluctuates in a body of water, it often indicates an environmental event. Saltwater intrusion into underground freshwater near an ocean is a common example in which monitoring of conductance is important, as an entire aquatic environment or inland resource may be affected.
Housed within a foul-resistant titanium exterior, the Aqua TROLL 100 can withstand pressures of up to 500 psi in temperatures ranging from -20 to 65 degrees Celsius.
The Aqua TROLL 100's internal batteries provide five years (or 200,000 readings) of accurate measurement when logging every 15 minutes. Solutions for extended deployments are available as well, including external batteries, solar power, or external 8-36 VDC as power source alternatives.
In extreme coastal environments or sites where high biofouling occurs, an optional TROLL Shield antifouling system can be added to the Aqua TROLL 100 to extend instrument deployments by up to eight weeks, improving the logger's overall accuracy and performance.
The Windows-based Win-Situ software allows for easy programming and management of the Aqua TROLL 100. The probe can also be easily integrated into external data logging systems, as it includes RS-485, Modbus, SDI-12, and 4-20mA communication output capabilities.
For more details, call Fondriest Environmental at (888) 426.2151, e-mail customercare@fondriest.com, or visit http://www.fondriest.com/products/in-situ_0056800.htm.