Ohio Sea Grant releases winter issue of Twine Line
0
by Dave Hochanadel
— January 10, 2011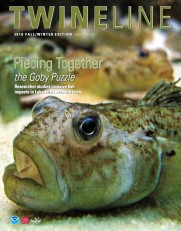 The Ohio Sea Grant has released its latest edition of Twine Line, the quarterly newsletter that covers Great Lakes issues and focuses on work at The Ohio State University's Stone Laboratory.
The cover story takes a look at the research conducted on the invasive round goby and how the bottom-dwelling fish has impacted Lake Erie.
This issue's other headlines include:
Lake Erie Partners Work Together for Common Goal
Making Lakes Out of Oceans
Big Fish Found Near Lake Michigan Causes Big Concern for Lake Erie
Showcasing the Gem
How Lake Erie Could Turn the 'North Coast' into an Attractive Region
Global Change Local Impact: Climate Change Webinar Series
2011 Stone Laboratory Courses
Student Spotlight: Ryan Wiens
In addition to the free online [PDF] version of the publication, a hard copy subscription is available at $10 for one year.
Twine Line [The Ohio Sea Grant College Program]